I didn't know Aaron Swartz, though I did attend his keynote at PyCon 2009. I knew he was involved with Reddit but I didn't realize until after his death exactly how much he was involved in things that really matter to me. RSS and the semantic web, Creative Commons, archive.org, DemandProgress.org and the anti-SOPA fight. I didn't realize it until now but he was one of my heroes, he embodied so much of what I have wished for myself. So many of these things that I support verbally, or with donations, or with small actions, this guy was out there in front blazing the trail. And they killed him. Well, they didn't actually kill him, but from everything I've read they may as well have.
It feels like the government hates me too, because at one time or another I may have done many of the things that he did: I may have changed to MAC address on my router to get my ISP to think it was a difference device after installing some firmware, so that I could get my legal internet connection back. I may have used my employer's network for non-work-related activities (I've also used my personal equipment to do work off-hours in emergency situations). I may have violated the terms-of-service of lots of web sites -- I don't really know, because nobody ever reads the TOS. I may have even written little programs to scrape web sites using curl, though not on the epic scale that Aaron did.
I was not doing anything in the least bit morally wrong when I did any of these things. On the contrary, pretty much any software developer or network administrator worth his salt, or tech-savvy user has done most of these things in the course of normal work and recreational internet usage. Sometimes, you have to do things like this to get your work done. Not only that, using computers of other tools for purposes other than what they are designed for is a really important part of doing anything interesting or innovative.
The point is that, aside from the sheer number of documents he downloaded from JSTOR, what Aaron did was simply not illegal, and the law is way too brain-dead and ignorant of technology.
Aaron in 2002, when he was 16. I can't look at this picture without thinking of my own son as he might be when he is this age.
Lawrence Lessig and Aaron Swartz (2002)
/ Rich Gibson / CC BY
Just on a human level, I can't stop thinking about that poor guy and what must have been going through his mind to make him hang himself. I'd feel similarly if I was facing decades away from everyone I cared about and everything that let me make some kind of difference in the world. Reading about some of the techniques the Feds use to isolate and beat down people they want to put away makes it even more horrifying to think of what he must have faced.
I wish I could write eloquently about this, to convey some insight, but I just don't have it in me right now so here are some links.
A couple paragraphs from Danah Boyd' post really capture some of the rage and sadness that I'm feeling (emphasis mine):
What made me so overwhelmingly angry yesterday was the same thing that has been boiling in my gut for the last two years. When the federal government went after him -- and MIT sheepishly played along -- they weren't treating him as a person who may or may not have done something stupid. He was an example. And the reason they threw the book at him wasn't to teach him a lesson, but to make a point to the entire Cambridge hacker community that they were p0wned. It was a threat that had nothing to do with justice and everything to do with a broader battle over systemic power. In recent years, hackers have challenged the status quo and called into question the legitimacy of countless political actions. Their means may have been questionable, but their intentions have been valiant. The whole point of a functioning democracy is to always question the uses and abuses of power in order to prevent tyranny from emerging. Over the last few years, we've seen hackers demonized as anti-democratic even though so many of them see themselves as contemporary freedom fighters. And those in power used Aaron, reframing his information liberation project as a story of vicious hackers whose terroristic acts are meant to destroy democracy.
Many people asked why people didn't speak up before. I can only explain my reasoning. I was too scared to speak publicly for fear of how my words might be used against him. And I was too scared to get embroiled in the witch hunt that I've watched happen over the last three years. Because it hasn't been about justice or national security. It's been about power. And it's at the heart and soul of why the Obama administration has been a soul crushing disappointment to me. I've gotten into a ridiculous number of fights over the last couple of years with folks in the administration over the treatment of geeks and the misunderstanding of hackers, but I could never figure how to make a difference on that front. This was a source of serious frustration for me, even as SOPA/PIPA showed that geeks could make a difference.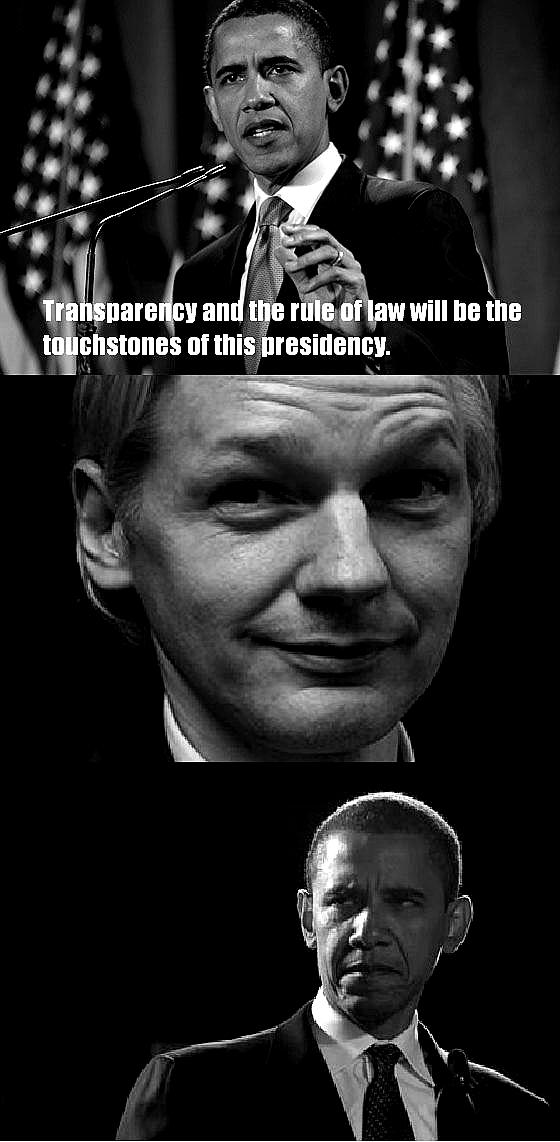 The last decade has been harrowing. 9/11 was an awful tragedy, but what followed has been much worse: The endless wars. Guantanamo. Warrantless wiretapping. The NDAA. The erosion of our civil rights under former President Bush. That was bad enough but after all the HOPE it's gotten even worse under President Obama (I knew I'd be disappointed, but didn't realize how much). The persecution of Wikileaks and Julian Assange and Bradley Manning. Our government is deeply afraid of transparency. To get biblical about it, "Everyone who does evil hates the light, and will not come into the light for fear that his deeds will be exposed." (John 3:20)
I want to break something right now and at the same time I feel a sense of despair and helplessness. I don't know what to do, but I'm going to be on the lookout for something. I want to do something real and practical. If enough of us are doing the same thing then maybe, just maybe, his death will not have been in vain.
We have to keep pushing, even if it doesn't look like it's working. I'm really sad for Aaron and for his family and loved ones. But I'm also reallyproud of what he was able to do in his life, and I hope we are able to honor him by continuing to fight for the things he fought for.
Updated 2013 Jan 16 09:03
Updated 2013 Jan 16 18:58
Updated 2013 Jan 17 09:09